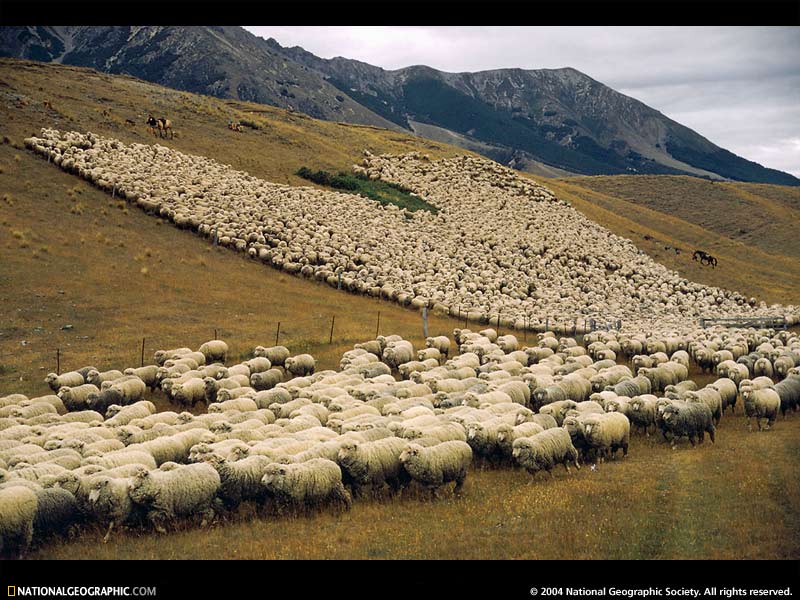 Characteristics of Sheep
MONDAY
"Come, follow me," Jesus said, "and I will make you fishers of men."- Matthew 4:19
SHEEP
.
Followers
. Sheep are "follower-types" of animals. God wants his children to be follower types. He does not want us following the wrong things, however. What he requires from us is that we have an attitude or mindset to follow after him. When we are willing to follow what is right (Jesus' example) we then are told there should be some results of that. That result is we should then be able to attract other "follower-types". Others will be drawn to us to want to be followers of Christ. That is the mandate in this small verse. As sheep, we come and follow after Jesus' call to us. When we do that he will equip us to draw other sheep not so much to us, but through our light they are drawn to the savior.
Prayer
: Help me Lord to be a follower of Christ the way that will attract others to desire to come to you. Allow your light to shine through me so the world will know I belong to you.
TUESDAY
"They devoted themselves to the apostles' teaching and to the fellowship, to the breaking of bread and to prayer." - Acts 2:42
SHEEP
.
Relational
. Sheep are relational and will link with 4 or 5 sheep while grazing. This is the characteristic that God requires from his children. God wants us to continue in the work of the Lord and to fellowship one with another. The believers devoted themselves to the relationship of being brothers and sister in Christ. Because they were devoted to oneness or unity of the Spirit; them came together and fellowshiped, studied the teaching of the apostles and to prayer. If you have read the book of Acts you will see that God added to the church daily because of the relationship of the believers. Have you ever wondered that maybe others are not coming into our fellowships because they do not see the connectiveness or relational aspects of sheep? This is why this characteristic is one that God looks for in his children. The importance is people in general are relational. They are looking for connections. If they do not find connect in our churches, they will continue right past us.
Prayer:
Lord today, allow me to have the attitude of caring for others. Help me to extend fellowship to others so those that are seeking to connect to God can find that relationship within his children. You call for us to be unified and on one accord, help us your people to achieve that.
WEDNESDAY
"Submit to one another out of reverence for Christ."
- Ephesians 5:21
SHEEP
.
Submissive
. Sheep are passive animals. This may sound like a bad trait, but what it really means is they are submissive to the authority of their shepherd. God wants us to be submissive to each other as well as to him. This characteristic is one that is a requirement. We cannot be "goatish" in our ways and not willing to submit to the authority over us. That authority is God. We are required from the Father to submit ourselves to one another and this is a show of reverence for Christ. We must be willing to submit to Christ call on our lives, his instruction on our lives and his purpose for our lives. These things all call for us to relent what we desire or what we think to following after the call of the shepherd.
Prayer:
Lord I often want my own way. Yet, I know that even when my flesh wants to do its thing, I desire to obey you. Help me this day to relent my way over to you. Help me to submit myself under your authority as I also submit myself to others. Help me to hear your call as my shepherd.
THURSDAY
But solid food is for the mature, who by constant use have trained themselves to distinguish good from evil.
- Hebrews 5:14
SHEEP
.
Sensitivity
. Sheep are highly sensitive to smell and sound. Their senses are very high. They have "discernment" of what is around them. They are able to sense the dangers of other animals by the smell in the air. God wants our spiritual senses to be high so that we can discern what is good and what is evil. If we can discern what is around us we will be able to know what is right before the Lord. Sheep are born with their sensitivity, we are not. Yet, when we are born again, we now have the capability to have this sheep like sensitivity to good and evil. However, this will not just happen. We must learn what the word of God says so we can grow and mature. This growth allows us to have greater sensitivity so that we can sense approaching dangers even before they are upon us.
Prayer
: Lord help me to grow in you so that I can learn to discern what is right before you. Help me to grow from milk to stronger meat. I know this will not happen without my studying your word. Help me to eat your word so that I can grow and have the sensitivity to know what is pleasing to you.
FRIDAY
Remain in me, and I will remain in you. No branch can bear fruit by itself; it must remain in the vine. Neither can you bear fruit unless you remain in me.
- John 15:4
SHEEP
.
Connection.
Sheep seek touch of other sheep. Sheep also have a great demand to have physical contact with their keeper for survival. This characteristic is one that God promotes for his children to have. He reminds us that we cannot bear the fruit we need to without being connected to him. God wants us to abide in him for without him we are lost. Connection to God is a must if we are to be healthy sheep. Our keeper's contact is vital for our survival. You know that feeling when you are faced with danger how comforting it is to know that God is with you. You feel your keepers hand upon you and that helps you to survive the journey.
Prayer
: Lord I cannot make it without you. I cannot grow, I cannot discern, I cannot be connected to others without your hand upon me. Like the sheep that longs to have his masters hand upon his head, so do we desire to have your hand upon us, encouraging us and helping us to know we are with you and you with us.